Do you find yourself seeing a new word and suddenly forgetting its meaning?
If yes, I have the best vocabulary apps that can help enhance your vocabulary.
No, I am not suggesting different dictionary brands, but some of the best vocabulary apps that will help in building a strong vocabulary foundation.
In this article, I have listed some of the best vocabulary apps, their benefits, and their features in quick overviews. In fact, I explained why vocabulary apps are worth it.
Take a deep breath. Sit relaxed. You are going to find the best vocabulary apps now!
17+ Best Vocabulary Apps (2023)
You might have learned the English language, yet are you finding yourself searching for words and phrases every time you give a speech or have a casual talk?
I got some of the best vocabulary apps that will help you to advance your English knowledge and understand the language better with compelling and fun tasks.
To be honest, most of the vocabulary apps are gamified and adequate to use. Without further ado, can we quickly jump into the list of best vocabulary apps?
Let's go!
WordUp
Vocabulary.com
Vocab1
VocabMagic
Vocabulary Builder (Magoosh)
Memrise
Vocabador
Anki
Word of the day
FluentU
Vocab Genius
7 Little Words
A Word A Day
Quizlet
English Vocabulary Builder
TOEFL Vocabulary Upgrade
Elevate Labs
1. WordUp
WordUp is one of the best vocabulary apps for adults who missed out on their English classes since WordUp uses many scenes from famous movies and tv shows to highlight the context and usage of new words.
You can instantly spot words from the range of most likely used to less likely used in WordUp, which means you can gather information on the effectiveness of a word.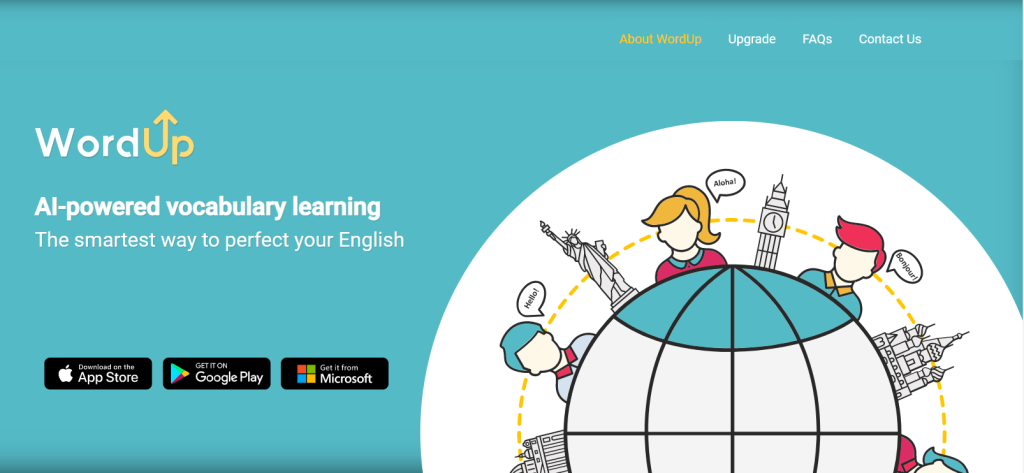 If you forget a particular meaning at the need of the hour, WordUp can help you in memorizing it by explaining in different contexts for easy understanding. 
---
2. Vocabulary.com
Vocabulary.com is the best resource for anyone seeking to enhance their English better. You can get everything under a single roof in Vocabulary.com from instant dictionary support, insights on readability, and a customized program personally tailored for you.
The entire learning experience in Vocabulary.com is gamified, and you can track your progress as you scale up your English knowledge. If you are an English tutor, Vocabulary.com offers many resources to get going with teaching. 
There are no pricing plans to learn, yet you have to purchase a tutor.
---
3. Vocab1
Vocab1 is a simple yet significant vocabulary learning application that focuses on each aspect to improve your English entirely. Like Vocabulary.com, you get plenty of resources in Vocab1 that you can make the utmost use of to become a pro in English.
From flashcards to worksheets to word reminders, Vocab1 provides it all. In fact, you can use Vocab1 without actually using Vocab1. Let me explain. Keep reading.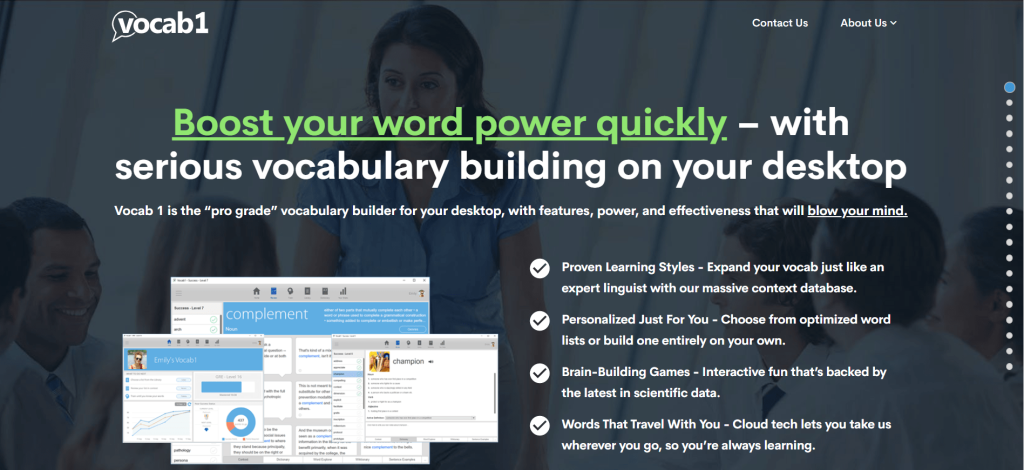 For instance, if you have a busy schedule and still want to learn, you can enable the Word Messenger in Vocab1, and it will periodically show up newer words once in a while. Plus, you can also track your progress efficiently and learn with your family.
The highlight feature in Vocab1 is its 636 expert word lists that you can use effectively. Vocab1 also lets you customize your own list of words for quick understanding.
---
4. VocabMagic
VocabMagic can be considered a scrape of an actual dictionary since it lets you learn the history of a specific word without losing the context. In VocabMagic, you can take unlimited tests and get a detailed report on the sections where you lag.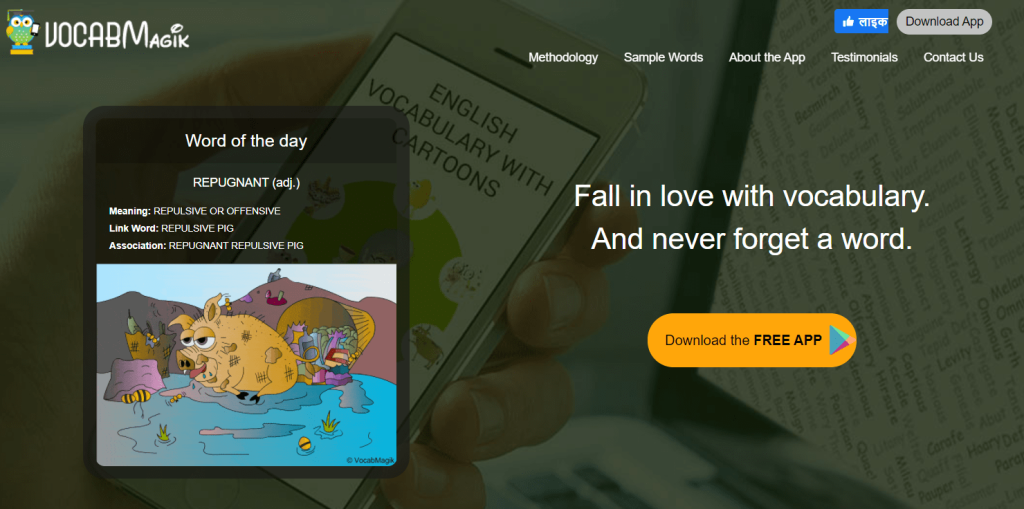 Most students prefer VocabMagic for the preparation of GRE, CAT, and SAT. Although it is highly recommended for test students, you can improve your vocabulary. VocabMagic uses innovative characters to give a fun experience.
Additionally, VocabMagic helps in improving retention and readability instantly.
---
5. Vocabulary Builder (Magoosh)
If you do not know, let me highlight that Magoosh is an educational learning prep platform that helps students better their exam preparation. So Magoosh has curated a dedicated application for people who can excel in English in GRE.
In fact, the vocabulary builder by Magoosh is verified and approved by GRE tutors, which means you can confidently improve your English by using the Magoosh app.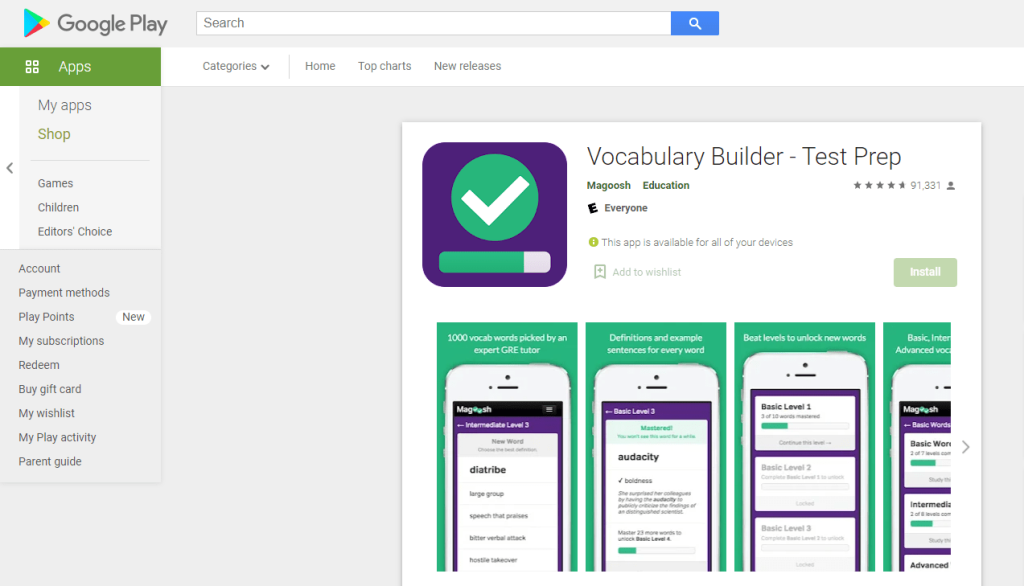 In Vocabulary Builder, you can basically learn sentence formation in different contexts using incredible games. Magoosh has made its application more gamified by locking up levels, and so you have to complete certain tasks to unveil new words.
Since Vocabulary Builder is a free application, anyone can instantly download it.
---
6. Memrise
Although Memrise is considered a language learning platform, it is better to enhance your English vocabulary since each language is taught from scratch.
Memrise ensures to cover all aspects of learning and improving English by giving self-tests, fun games, and native speakers expressing their thoughts in English.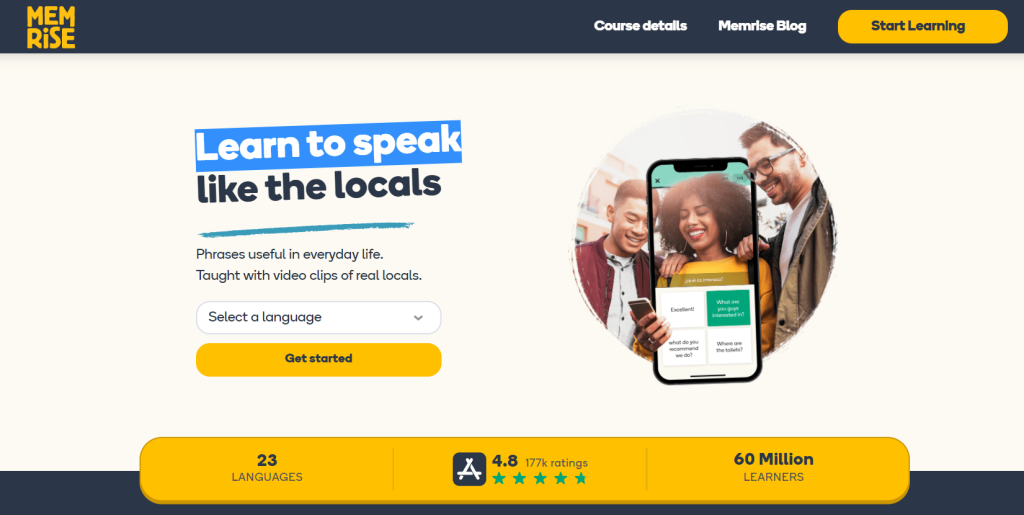 You basically get an insightful learning experience from Memrise. Plus, Memrise claims that the learning techniques used are backed up by science.
In fact, you get guaranteed immersive learning in Memrise, which means Memrise will not highlight you about the words but easily help you grasp the usage of new vocabulary.
---
7. Vocabador
Vocabador follows a wrestling-themed approach by labeling the difficulty levels as lightweight, middleweight, and heavyweight. Even the flashcards have wrestlers' graphics, making Vocabador even more interesting to play and learn.
Each Vocabador flashcard will have the word on one side and its synonym on the other side so that you can instantly learn new vocabulary and their meaning easily.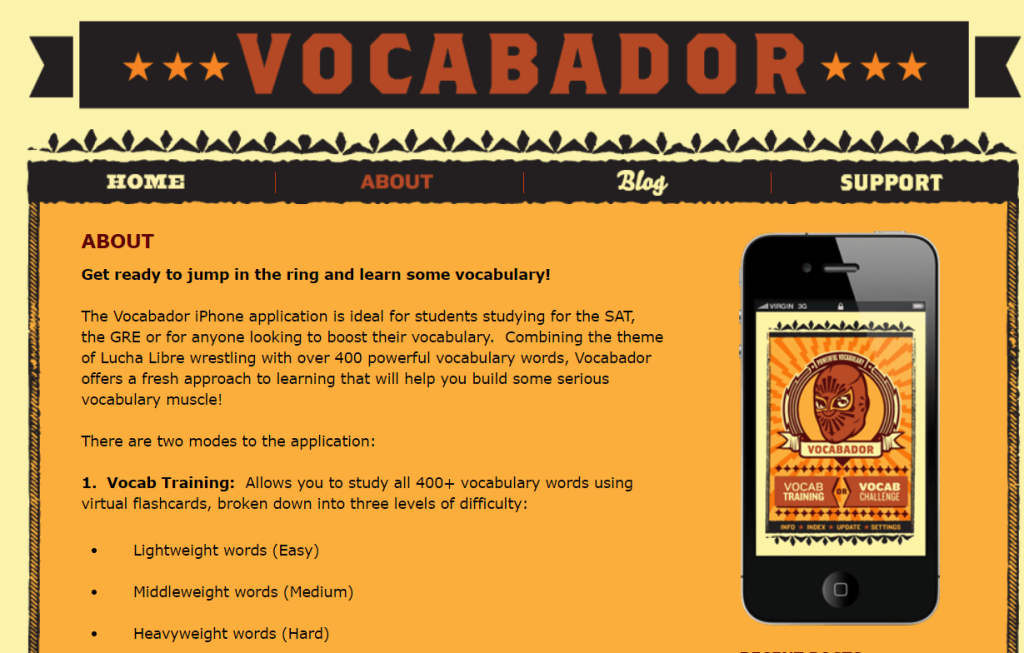 Upon completing the flashcards, you can take up tests referred to as wresting tournament in Vocabador and fight throughout the test by answering the right word.
Although Vocabador targets GRE and SAT students, anyone uses it efficiently.
---
8. Anki
Most vocabulary improvising apps use flashcards as a base feature, but Anki highlights the usage of flashcards as its flagship tool. You can generate a plethora of flashcards which means you can continue learning forever.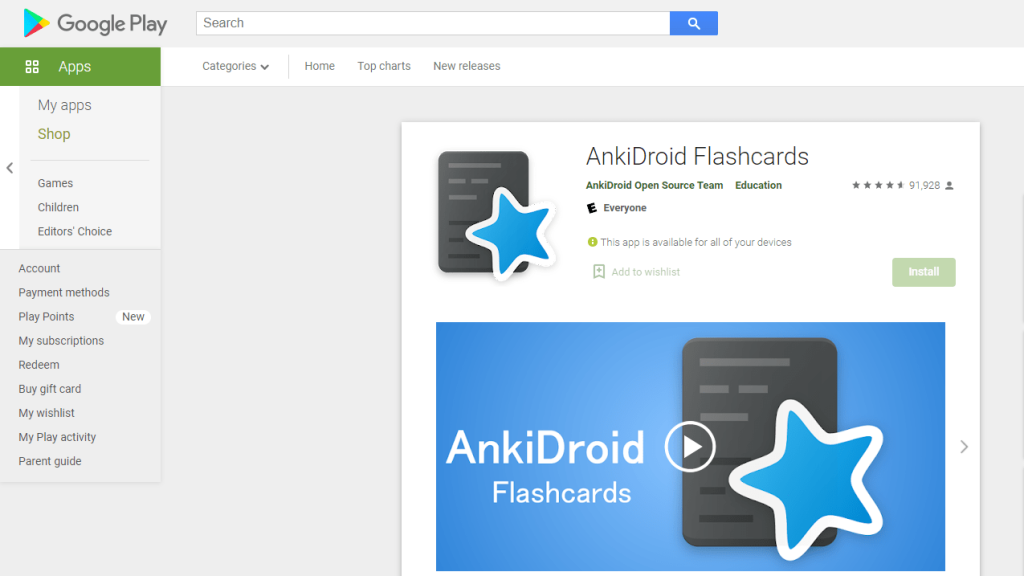 What's more? You also get offline access. For instance, if you are stuck in a place with no signal or your wifi went down, you can still use Anki to enhance your vocabulary.
The interface is quite simple, but you get the best quality if you focus on the flashcards!
---
9. Word of the Day
Word of the Day is one of the popular games that also help familiarize vocabulary. As the name highlights, you basically get a new word every day.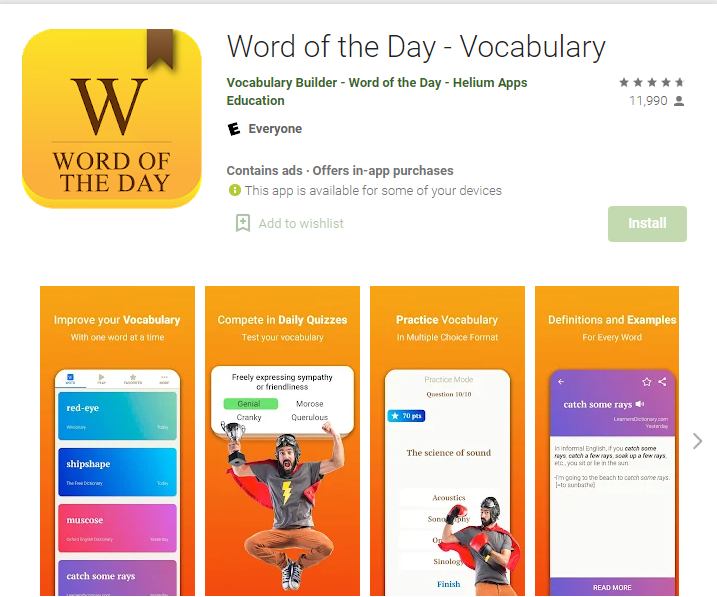 You can consider it as a flashcard, but you do not know what word you'd get next. Each word in the word of the Day application will show up with its desired definition in simple words for easy understanding. In fact, each word shows a list of synonyms.
Using Word of the Day, you get the satisfaction of learning and gaming. It's interesting!
---
10. FluentU
FluentU is a vocabulary-building platform that helps in accurate word pronunciation flor effective communication. The AI used in FluentU will instantly grasp every audio played in a video, translate it, and teach you vocabulary.
Usually, we hear new vocabulary every day, especially being a non-English speaker; every word we hear is a new word. In such cases, FluentU might help.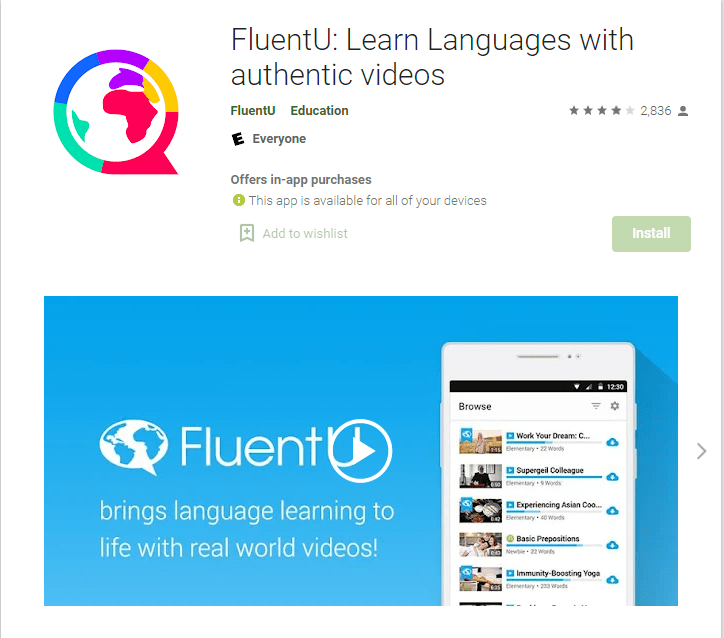 FluentU lets you hear the word, look at its correct spelling, and highlight it for better understanding. FluentU supports 13+ languages. Although FluentU charges from $19.99/m onwards, you can easily explore FluentU using the 14-day free trial.
---
11. Vocab Genius
Vocab Genius is one of the vocabulary learning modules in Brainscape, where an author curates a systematic learning approach through several sets of flashcards in a certain language. You cannot expect any gamified effect on Vocab Genius.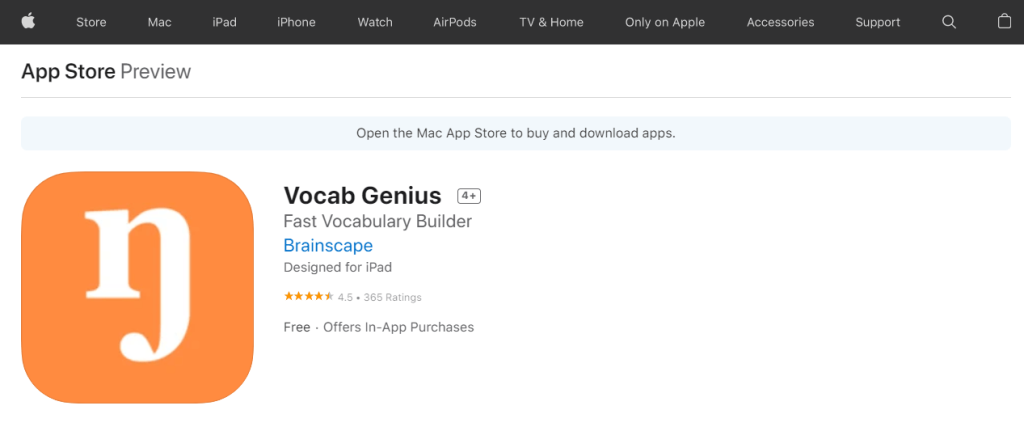 Yet, Vocab Genius helps in understanding words better and learning them quickly. You can notice that words that you are not familiar with will be displayed continuously with a certain interval limit so that you can grasp and store them in your memory gradually.
As of now, Vocab Genius is only available in AppStore for IOS (Apple) users only.
---
12. 7 Little Words
7 Little Words is an instant puzzle game that lets you group multiple letters to form the desired word. You can basically get a gaming experience while also learning how to rearrange jumbled words altogether. Don't worry. You will get hints and clues too!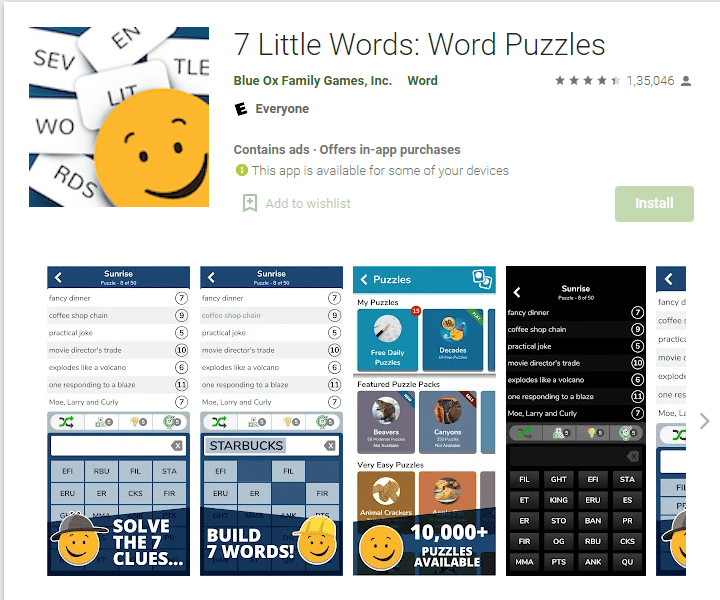 Along with daily puzzles for vocabulary learning, you will also get the chance to learn other languages like Spanish and French. Plus, 7 little words has integrated subjects like Science and Social Studies to learn universal words via education.
Still, you can consider 7 Little Words as the last option since fewer features exist.
---
13. A Word A Day
A Word A Day is a one-of-a-kind vocabulary learning app that is basically used as a widget where the application drops a new word every single day, making you guess and spot the word instantly. Upon finding the word, you will be rewarded in points.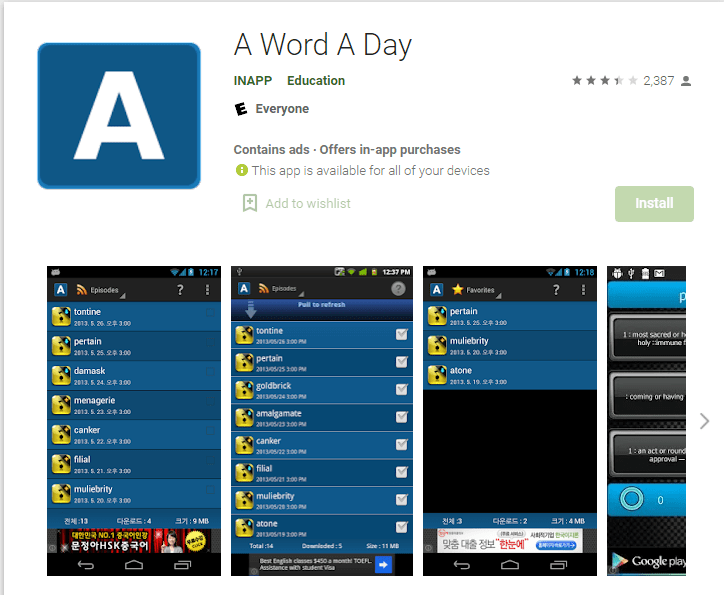 Although it is a game, most users find it insightful and claim that it helps enhance vocabulary and learn foreign words effectively. If you cannot invest enough time into learning, having A Word A Day (or related apps) can be helpful!
14. Quizlet
Quizlet is more than just a vocabulary app because it has a huge library of study materials and flashcards that can help students in preparing for all subject-related tests such as the GRE and SAT. This app already has over 50 million users. In the app, you can find quizzes, games, and flashcards on different subjects. There are seven different learning modes available that students can choose from.
There is not much description available of these learning modes but using these modes students can make a team and compete with other teams. They can play different modes such as flashcard lessons, spelling tests, and interactive games. Quizlet is one of the best vocabulary apps and it is available on Android and iOS both.
---
15. English Vocabulary Builder For GRE & SAT & More
This is the ultimate vocabulary app you will need to prepare for exams like GRE, SAT & more. This app is developed by Galvanize test prep, and they claim that their app is one of the best vocabulary apps in the world. According to their customer ratings, they may be on to something here. The app was designed to help students who are preparing for TOEFL, GRE, and SAT, but nowadays, everyone is using it to improve their vocabulary.
The creators of this app have created a gaming environment within the app using flashcards and clear images. You will compete with yourself to progress to the next levels. They also show the definition of every word and an example of them to help you understand the words in a better way.
---
16. TOEFL Vocabulary Upgrade
If you are preparing for your TOEFL (Test Of English as a Foreign Language) exam, then this is the best vocabulary app you can have. This app is made for children who are 12+, and it helps them develop their speaking and language skills which include spelling and complex words. The biggest downside of this app is that it is not free, and you will need to pay $1.99 once to use the app.
This app assists learners in learning English as an additional language. Once the learners get well acquainted with the English language, they can start moving towards more difficult English words and how to pronounce them properly. This app will help you move closer to becoming a native English speaker. This app is only available for iOS devices.
---
17. Elevate Labs
In our fast-paced digital world, having a strong vocabulary is more important than ever. Whether you're crafting emails, presenting at work, or trying to keep up with the latest news, a robust vocabulary is essential. This is where the Elevate app comes in handy. Elevate is designed to expand your vocabulary and improve your communication skills.
Key Features of Elevate
Personalized Training Plans – Elevate creates customized training plans based on your current vocabulary level and problem areas. The more you use it, the more personalized it becomes.
Adaptive Challenges – As you progress, Elevate adapts the challenges to your improving skills. The difficulty level matches where you are to help you advance.
Variety of Challenges – Elevate has over 35 mini-games to help cement new words. These range from choosing definitions to filling in blanks.
Detailed Stats – The app tracks your overall vocabulary size, how many new words you learn per session, and more. This data helps you monitor your improvement.
Synonym Matching – A key part of expanding your vocabulary is learning synonyms. Elevate games help you identify and remember useful synonyms.
Offline Access – You can use Elevate on a plane, subway, or anywhere without an internet connection. It syncs data when you reconnect.
Personal Dictionary – All the words you learn are saved to your personal dictionary for quick reference and revision.
---
Are Vocabulary Apps Worth It?
Despite reading newspapers, skimming magazines, and browsing the internet daily, if you are still struggling to get a grip on certain vocabulary, the best vocabulary apps are the right way to enhance it instantly.
Most vocabulary apps are built to satisfy your gaming experience while also educating you on understanding and learning new vocabulary.
In my personal experience, I have learned several sets of vocabulary through the best vocabulary apps, and I can't thank the best vocabulary app creators enough!
In fact, you do not have to install the best vocabulary apps to learn new words but download them for casual gaming. Eventually, you'll start absorbing vocabulary!
Final Thoughts: Best Vocabulary Apps (2023)
If English is not your first language or mother tongue, you can still learn it easily!
You can check out the best vocabulary apps and enhance your vocabulary in no time. Since the vocabulary apps are mostly gamified, it is fun and interesting!
Let me tell you something. I learned most words I used in this article from some of the best vocabulary apps only. If that doesn't convince you, I don't know what will.
Go ahead, unlead your inner Shakespeare, and improve your English efficiently!
FAQs On Best Vocabulary Apps
Are vocabulary apps games?
Although each vocabulary app follows a different pattern, most are gamified only. Therefore, vocabulary apps are considered games.
Why do you need vocabulary apps?
You need vocabulary apps to enhance your vocabulary instantly.
Can you use vocabulary apps to prepare for SAT, GRE?

Yes – Even tutors suggest using vocabulary apps to learn for SAT and GRE. 
Are puzzle games considered vocabulary apps?
Yes. In fact, most vocabulary apps are gamified and induced as puzzle games, so puzzle games are considered vocabulary apps.